November Is Pet Cancer Awareness Month – Will You Spread The Word?
At PetCure Oncology, we deal with pet cancer every day. We work with the most experienced veterinary clinical teams, the best pet advocates to help coordinate care and have helped treat thousands of pets with cancer. November is Pet Cancer Awareness Month and we are sharing critical information all pet owners should know, like how to reduce the risk of cancer, the common types of pet cancer, and what we are doing to help dogs and cats who have been diagnosed with cancer.
How to Reduce Your Pet's Risk of Cancer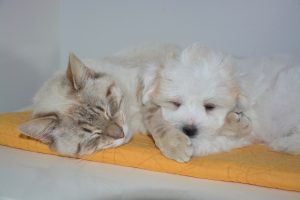 Does your dog or cat receive regular checkups? Do they eat a healthy, well-balanced diet? Does your pet get their teeth cleaned? All these actions can help reduce your pet's risk of receiving a cancer diagnosis.
Pet Cancer Facts
Did you know that 12 million cats and dogs are diagnosed with cancer every year? That means millions of pet owners are faced with difficult decisions around their treatment.
PetCure Oncology has treated more than 2,000 pets with cancer since opening their first treatment center in May 2015
Veterinary cancer treatment technology is advancing every day. PetCure Oncology is committed to staying at the forefront of clinical advances
Our clinical team (with 6 board-certified radiation oncologists) is working hard to evaluate patient data and share key learnings around specific tumor types and their response to radiation therapy.

The most common cancers PetCure Oncology has treated include:

Sarcomas – 297 pets treated
Carcinomas – 184 pets treated
Osteosarcomas – 161 pets treated
Melanomas – 139 pets treated
Mast Cell Tumors – 129 pets treated
Meningiomas – 136 pets treated
Adenocarcinomas – 135 pets treated
Pet Cancer awareness month is an opportunity for us to share patient stories and key information surrounding pet cancer. We hope you'll share this information with pet owners in need.
Learn more about pets we have treated:

RELATED: National Kid & Pet Day, New Year, New Health Goals For Your Pet (And You!), Tips For Celebrating Earth Day With Your Pet, Celebrating Veterinary Technician Week, One Health Day: People & Pets Battling Cancer Together, November is Pet Cancer Awareness Month