Pet Hero: Enano, The Playful Pitbull Mix
As soon as Enano's mom met him for the first time, she knew he needed her help. Dr. Erin Updegrove met Enano while she was in Mexico working in a veterinary clinic as a veterinary student. Enano arrived at the clinic when he was 6 months old, was very small and malnourished, which lead to his name which means "dwarf" in Spanish.
Enano was brought back to the U.S. with Dr. Updegrove and made him feel right at home. She soon learned that he liked to play around a lot and was very rambunctious and energetic. He has mellowed out over the years and likes to enjoy his old age by taking strolls around the block, rolling around in the grass, and hanging out with his pet sister, Riza.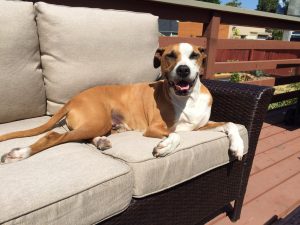 Signs & Symptoms
Dr. Updegrove noticed something was wrong with Enano when he was put under anesthesia in June for an unrelated procedure. While under anesthesia she was able to get a better look at his mouth and gums and noticed a mass. She quickly set up time for his dentist to do a CT on his mouth which showed that he had a maxilla fibrosarcoma. His dentist removed as much of the tumor as possible but knew it would not be enough to save Enano's life. 
SRS/SRT
Since Enano's mom is a veterinarian, she had heard of stereotactic radiation therapy (SRS/SRT) but didn't have much knowledge on the treatment. This prompted her to do more research. She realized that the only options left for Enano were to treat with stereotactic radiation therapy (SRS/SRT) or to do nothing at all. She decided to move forward with treatment.
Dr. Updegrove took Enano to SAGE Centers for Veterinary Specialty and Emergency Care for a consultation with Dr. Lauren Quarterman. It was determined that SRS/SRT was the recommended treatment for Enano. He received three fractions of stereotactic radiation therapy (SRS/SRT) and completed treatment in mid-August. Enano's mom noted that during his treatment Enano was able to build everlasting bonds with the PetCure Oncology staff at SAGE.
"The whole team was really great, and they took great care of Enano. He was always wagging his tail when he saw them and that makes me feel good," explained Dr. Updegrove.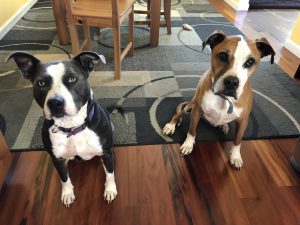 Follow-up
According to his mom, Enano is currently feeling just as he did before cancer. She has noticed a difference in his behavior and remains hopeful about the effectiveness of the SRS/SRT treatment. They are scheduled for a follow up CT scan in February to evaluate tumor shrinkage or growth.
Dr. Updegrove describes Enano as "not the perfect dog, but the perfect dog for me". She noted that stereotactic radiation therapy (SRS/SRT) can be a great option for pet owners who have pets with cancer, especially for those that feel that there are no other options left.
If Your Pet Is Diagnosed with Cancer, PetCure Oncology Can Help
Our team is ready to offer you guidance on your pet's cancer journey. To speak with a member of our Pet Advocate team, please call 883-PET-HERO.