PetCure Oncology Chicago
PetCure Oncology is proud to announce its newest location in the Chicago area serving the northwest and northern suburbs of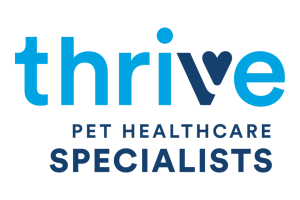 Chicago. Additionally, this location is happy to welcome patients from all around the Midwest including, but not limited to Iowa, Michigan, Minnesota, Indiana, and Missouri.
Located in the northwest suburb of Hoffman Estates, PetCure Oncology operates the radiation oncology service within Thrive Pet Healthcare Specialists – Hoffman Estates, a 24-hour emergency and veterinary specialty center. In addition to state-of-the-art medical oncology and radiation oncology services, this specialty hospital also provides 24/7 emergency care as well as critical care, internal medicine, surgery, neurology, dermatology, and radiology. While PetCure Oncology's headquarters have been located in the Chicago area for many years, this is the first treatment facility in the state of Illinois.
How To Make An Appointment
Reach out to us at (833) PET-HERO, or streamline your request by selecting one of the options below:
To kickstart the process, we'll initiate contact with your family veterinarian or veterinary oncologist, taking care of all the necessary arrangements and securing your pet's medical records. To ensure that we have the most comprehensive understanding of your pet's health before your in-person consultation, our team will discuss your pet's medical history with your veterinarian. Additionally, we'll request that you complete some essential forms before your visit.
On the day of your appointment, you will meet with the veterinarian responsible for overseeing your pet's care. They will examine your pet and answer any questions you have. Together, we will establish the best treatment plan possible and start your pet's journey toward better health.
Learn more about what to expect during your visit.
Your Care Team
PetCure Radiation Oncologist: Karri Meleo, DVM, DACVIM (Oncology), DACVR (RO)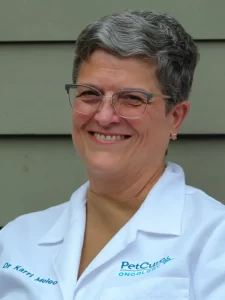 Dr. Meleo is one of PetCure Oncology's remote radiation oncologists. She oversees Telehealth Visits and treatment planning for patients and veterinarians in Wisconsin and northern Illinois, as well as nationally for pet owners who do not reside in a region with a PetCure treatment center. Dr. Meleo is board-certified in both medical and radiation oncology and brought 30 years of in-practice experience with her to PetCure, most recently working as the Oncology Department Head for BluePearl Seattle. Dr. Meleo's extensive resume includes board certification in radiation oncology the first year it was offered (1994) and a slew of research, publication, public speaking, and consulting experience for brands such as the Sloan-Kettering Institute, Alpo Pet Foods, Bayer Animal Health, and more.
Team Email: Petcure.Chicago@ThrivePet.com
If You Are Traveling From Out-Of-Town
We want to make your visit as easy and stress-free as possible. If you would like assistance finding pet-friendly hotels and restaurants nearby, we are happy to help. Also, see our Tips For Traveling With Your Pet For Cancer Treatment. If you have any other questions, simply ask one of our client service representatives.
---