PetCure Oncology at PVSEC – Pittsburgh, Pennsylvania
Welcome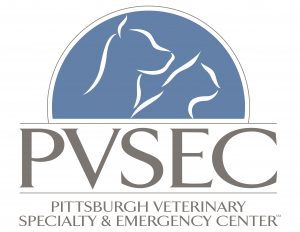 In western Pennsylvania and northeast Ohio, PetCure Oncology has partnered with Pittsburgh Veterinary Specialty and Emergency Center. The most comprehensive, multi-specialty veterinary center in the region, PVSEC is a leader in patient care innovation and community education. Renovated in 2014, the robust, 35,000-square-foot campus is home to 15 board-certified specialty areas including radiation oncology, medical oncology, neurology, internal medicine and surgery. PVSEC offers 24/7 emergency veterinary care and is the only practice in western Pennsylvania that offers high-field MRI or radiation therapy for pets. Working closely with the PVSEC team, we will develop the best possible treatment plan for your pet.
Your care team
Radiation Oncologist: Christine Anderson, DVM, MS, DACVIM (Oncology), DACVR (Radiation Oncology)
Dr. Anderson has been a practicing, board-certified radiation oncologist since 2001. She arrived at PVSEC in 2013 and officially joined the PetCure Oncology team in 2016. Prior to moving to Pittsburgh, Dr. Anderson spent 12 years treating both radiation and medical oncology patients at the Angell Animal Medical Center in Boston. She received clinical training at Colorado State University's prestigious Flint Animal Cancer Center, where she completed dual residencies in comparative oncology and radiation oncology. As such, Dr. Anderson is double-board certified in radiation oncology and medical oncology, making her uniquely qualified to discuss all treatment options available for pets with cancer. Her educational background also includes dual Masters' of Science in Clinical Sciences and Radiation Biology from Colorado State University, a Doctor of Veterinary Medicine degree from the University of Minnesota, and a Bachelor of Science in Biology from the University of Notre Dame.
Learn more about Dr. Anderson and the rest of PetCure Oncology's clinical specialists.
Practice Director: Marlene Wirfel
Veterinary Technician/Clinical Manager: Sue Wolski, CVT
Radiation Therapist: Brandy Banks, R.T. (R)(T)
How to make an appointment
Simply give us a call at (412) 366-3400.
We will reach out to your family veterinarian to make all the arrangements and obtain your pet's medical records. To get the most complete picture in advance of your visit, our specialists will discuss your pet's medical history with your family veterinarian before you come in for a consultation. You will also be asked to complete some forms before your visit.
On the day of your appointment, Dr. Anderson will examine your pet and answer any questions you have. Together, we will work out the best treatment plan possible and start your pet's journey toward better health.
Learn more about what to expect during your visit
If you are coming from out of town
We want to make your visit as easy and stress-free as possible. If you would like assistance finding pet-friendly hotels and restaurants nearby, we are happy to help. If you have any other questions, simply ask one of our client service representatives.
Save
Save
Save
Save
Save
Save
Save
Save
Save
Save
Save
Save
Save
Save
Save
Save
Save