PetCure Oncology Clifton, NJ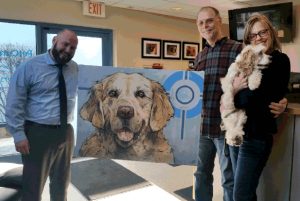 In the New York City area and northern New Jersey, PetCure Oncology manages a standalone comprehensive cancer care center that provides medical oncology and radiation oncology services in addition to CT, X-Ray and ultrasound. In addition to cancer care and advanced imaging, the Clifton location also features an on-site outpatient internal medicine service.
Originally created as the first veterinary-only, independent, cross-sectional imaging and radiation treatment center in the world, this long-standing cancer care center joined the PetCure Oncology network in 2015. Medical oncology was added in 2021 and internal medicine was added in 2022. Not only has the center treated thousands of patients, it has served as a vital educational resource for veterinarians in the application of cross-sectional imaging, including MRI and CT, and advanced radiation cancer treatment. The center pioneered treatment protocols for the application of radiation treatment and cross-sectional imaging.
How To Make An Appointment
Reach out to us at (833) PET-HERO, or streamline your request by selecting one of the options below:
We will reach out to your family veterinarian or veterinary oncologist to make all the arrangements and obtain your pet's medical records. To get the most complete picture in advance of your visit, our team will discuss your pet's medical history with your veterinarian before you come in for a consultation. You will also be asked to complete some forms before your visit.
On the day of your appointment, you will meet with the veterinarian or radiation therapist responsible for overseeing your pet's care. They will examine your pet and answer any questions you have. Together, we will establish the best treatment plan possible and start your pet's journey toward better health.
Learn more about what to expect during your visit.
Your Care Team

Radiation Oncologist: Kelsey Pohlmann, DVM, MS, DACVR (RO)
Dr. Pohlmann is one of PetCure Oncology's remote radiation oncologists. She oversees teleconsultations and treatment planning for patients and veterinarians in and around New Jersey, as well as nationally for pet owners that do not reside in a region with a PetCure treatment center. Dr. Pohlmann earned her veterinary degree from the University of Georgia before completing her residency in radiation oncology at Colorado State University's prestigious Flint Animal Cancer Center. She has been working with PetCure Oncology since 2016.

Internist: Larry, Kantrowitz, DVM, DACVIM (SAIM)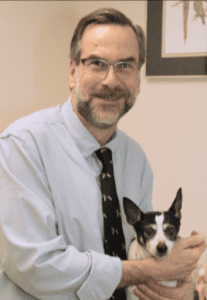 Dr. Kantrowitz provides outpatient internal medicine services at this location through his company, Veterinary Internal Medicine Associates (VIMA). He received his Doctorate in Veterinary Medicine from Cornell University in 1992. He completed his internship at Oradell Animal Hospital, followed by a non-traditional, practice-based residency program at Oradell Animal Hospital in conjunction with several other institutions. Dr. Kantrowitz received his board certification in Small Animal Internal Medicine in 2000 and joined AERA in 2003. He has been published in the area of thyroid disease and has a special interest in endocrinology. Dr. Kantrowitz has served on AAHA committees including the Standard Enhancement Task Force, which wrote the latest revision of accreditation for veterinary hospitals. Additionally, Dr. Kantrowitz is proud to have participated in the FDA clinical trials for the latest veterinary drugs to treat both Cushing's Disease and Addison 's disease in pets.
Meet PetCure Oncology's board-certified clinical specialists.
Supervising Veterinarians: Jacklyn T. Wolfe, DVM and Kate Heller, DVM
Director of Radiation Therapy: Shivani N, R.T. (T)
Client Liaisons: Taherrah J, Shayla R, and Susan G.
Veterinary Technicians: Kristina R, CVT, LVT, Kasara H, CVT, Carl S., Courtney V., Krissy S., Laurie A., Cheryl M., Jenn B.
Team Email (Radiation/Imaging): Petcure.Clifton@ThrivePet.com
Team Email (Medical Oncology): Petcure.Clifton.MO@ThrivePet.com
If You Are Traveling From Out-Of-Town
We want to make your visit as easy and stress-free as possible. If you would like assistance finding pet-friendly hotels and restaurants nearby, we are happy to help. Also, see our Tips For Traveling With Your Pet For Cancer Treatment. If you have any other questions, simply ask one of our client service representatives.

CLIFTON PRESS RELEASES: PetCure Oncology Acquires Veterinary MRI & RT Center of New Jersey, PetCure Oncology at VRIC Applauds The Veterinary Technician Community During National Veterinary Technician Week, Veterinary MRI & Radiotherapy Center of NJ Acquired
Save
Save
Save
Save
Save
Save
Save
Save
Save
Save
Save
Save
Save
Save
Save
Save
---