Pet Hero: Othello, The Lovable Lab Mix
Life for four-year-old Othello had been rough but was made sweeter through the love of his mom Shaina. Shaina got him as a puppy when he was just 12-weeks-old in 2014 and she's loved and cared for him ever since.
In his free time, he loves to play with bones, play with his pet siblings Quazar, Mozart, and Van Gogh, and cuddle with his mom. He also likes to run around and play with his friends and family when they come to visit.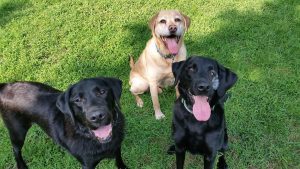 Signs & Symptoms
Shaina adopted Othello knowing about his cancer diagnosis. She was aware that he had a hemangiosarcoma on his skin and was committed to making sure he received the best care. Once she finalized the adoption, the cancer was confirmed by Dr. Renee Alsarraf from Animal Emergency & Referral Associates (AERA) in Fairfield, NJ. Shaina and Dr. Alsarraf had worked together and she knew that she would be able to care for him.
CFRT
Dr. Alsarraf recommended conventionally fractionated radiation therapy (CFRT) for Othello. Shaina quickly set up an appointment with PetCure Oncology in Clifton, NJ with Dr. Neal Mauldin.  There, Othello was treated with 21 fractions of CFRT in December of 2014.
Shaina recalls feeling nervous but felt a bit more at ease once she realized the quality of staff at PetCure Oncology in Clifton, NJ.
"Their fantastic staff is amazing – nothing but completely awesome," she said.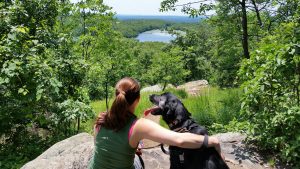 Follow–up
It's almost four years later and Othello is still doing well. Shaina describes Othello as invincible. He is running around, playing and you wouldn't know he had cancer treatment if not for his surgery scar. She can't wait to see him grow and live a long and happy life.
Shaina knew she had to do whatever she could to help Othello. As a message for other pet owners, she emphasizes the importance of, "taking time to do research and going to consults with veterinarians to get information and ask questions." She strongly feels that having more information about treatment helps to relieve some of the fear associated with treating a pet for cancer and she encourages others to do the same.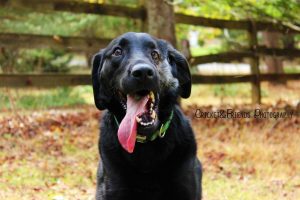 If Your Pet Is Diagnosed with Cancer, PetCureOncology Can Help
Our team is ready to offer you guidance on your pet's cancer journey. To speak with a member of our Pet Advocate team, please call 883-PET-HERO.