PetCure Oncology San Jose

In the Bay Area, PetCure Oncology has partnered with SAGE Centers for Veterinary Specialty and Emergency Care (SAGE). The four-center network is northern California's leading specialty veterinary provider with facilities conveniently located around the San Francisco Bay in Campbell, Redwood City, Dublin and Concord.
The SAGE team includes board-certified specialists in 10 specialty areas, including nine medical oncologists, three neurologists, 15 surgeons and 12 internists. Medical oncology is available at all four locations while radiation oncology is located only at the Campbell facility. SAGE's reputation for delivering exceptional patient care, going the extra mile for pet owners, and embracing innovative medicine made the PetCure Oncology San Jose partnership with SAGE an ideal collaboration. Together, we will work with you and your veterinarian to create the best achievable treatment plan for your pet.
How To Make An Appointment
Reach out to us at (833) PET-HERO, or streamline your request by selecting one of the options below:
We will reach out to your family veterinarian to make all the arrangements and obtain your pet's medical records. To get the most complete picture in advance of your visit, our specialists will discuss your pet's medical history with your family veterinarian before you come in for a consultation. You will also be asked to complete some forms before your visit.
On the day of your appointment, Dr. Parand will examine your pet and answer any questions you have. Together, we will work out the best treatment plan possible and start your pet's journey toward better health.
Learn about what to expect during your visit.
Your Care Team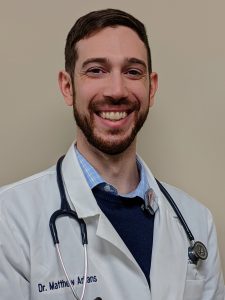 Radiation Oncologist (PetCure Oncology San Jose): Matt Arkans, VMD, DACVR (RO)
A native of Philadelphia, Pennsylvania, Dr. Arkans received his undergraduate degree in Biology from Franklin & Marshall College before attending veterinary school back in his hometown at the University of Pennsylvania. After graduation he stayed on the east coast, performing a one-year rotating internship at a large, multi-specialty practice in Red Bank, New Jersey, followed by a residency in Radiation Oncology at the North Carolina State University Veterinary Teaching Hospital in Raleigh, North Carolina. His residency program involved joint study with both the Duke and UNC Chapel Hill Medical Schools, including didactic training and participation in comparative and translational oncology studies. After completing residency and achieving board certification, Dr. Arkans practiced for a year in Sacramento, California, before moving to Chicago, Illinois where, in addition to running a busy clinical practice, he served as the Specialty Leader of Radiation Oncology across the entire nation-wide organization [for MedVet-Chicago].
In clinical practice Dr. Arkans has experience with and expertise in a wide array of radiation treatment modalities, including image-guided, intensity-modulated, and stereotactic radiation therapy (including stereotactic radiosurgery, stereotactic body radiation therapy, and dynamic adaptive radiotherapy). His clinical interests include neuro-oncology (treating tumors of the nervous system), incorporation of a multi-specialty and mult-modal approach to cancer patient care, adaptation of progressive radiotherapy techniques to unique veterinary challenges, injectable radiotherapy treatments (including I-131), and techniques for cancer screening and early cancer detection in the veterinary world.
When not at work, Dr. Arkans enjoys spending time with his family: his wife, Elaine (a veterinary surgeon and his personal career hero), young son, and ill-behaved lab mix Lord Eddard Stark (AKA Eddie).
Learn more about PetCure Oncology San Jose's clinical specialists.
Board-Certified Medical Oncologists:
SAGE Campbell: Dr. Michael Kiselow, Dr. Rebecca Regan, Dr. Steve Shaw

SAGE Concord: Dr. Lori Cesario
SAGE Dublin: Dr. Wendi Velando Rankin, Dr. Chantal Tu (residency trained)
SAGE Redwood City: Dr. Bryan Marker, Dr. Marissa Ruppel, Dr. Naoko Sogame
Supervising Veterinarian: Nichole Parand, DVM, BS
Radiation Therapist: Patrick H., RT
Veterinary Technician: Danielle G.
Veterinary Technician: Megan M.
Veterinary Technician: Noa C.
Veterinary Technician: Caitie H.
Client Liaison/Veterinary Assistant: Kai M.
Team Email: PetCure.SAGE@ThrivePet.com
If You Are Traveling From Out-Of-Town
We want to make your visit as easy and stress-free as possible. If you would like assistance finding pet-friendly hotels and restaurants nearby, we are happy to help. Also, see our Tips For Traveling With Your Pet For Cancer Treatment. If you have any other questions, simply ask one of our client service representatives.
SAN JOSE PRESS RELEASES: SRS Now At SAGE Centers In SF Bay Area, CA, PetCure Coming to California & Florida
Save
Save
Save
Save
Save
Save
Save
Save
Save
Save
Save
Save
Save
Save
Save
Save
Save
Save
Save
Save
Save
Save
Save
Save
Save
Save
Save
Save
Save
Save
Save
Save
Save
Save
Save
Save
Save
Save
Save
Save
Save
Save
Save
Save
Save
Save
Save
Save
Save
Save
Save
Save
Save
Save
Save
Save
Save
Save
Save
Save
Save
Save
Save
Save
---