PetCure Oncology at SEVO-Med – Jacksonville, Florida


In the southeast, PetCure Oncology has partnered with Southeast Veterinary Oncology and Internal Medicine (SEVO-Med) to treat dogs and cats with cancer. The specialty center is the region's leading veterinary oncology provider and was one of the first oncology-specific veterinary specialty practices in the country upon opening in 2004. SEVO-Med is proud to provide personalized, informative and compassionate care that treats your pet like family.
Our team of expert veterinary specialists provides state-of-the-art care and compassion to your beloved pet. PetCure Oncology at SEVO-Med offers a full-continuum of health services, ranging from oncology to internal medicine and including regular collaboration with specialists across all service areas. We will work directly with you and your referring veterinarian to develop a customized care plan that will optimize your pet's health and keep him/her as comfortable and as happy as possible while in our care. Our 6,500-square-foot, state-of-the-art facility proudly boasts an in-house linear accelerator, luxury runs, and unmatched diagnostic capabilities — all designed in a relaxed, comforting environment to best suit the needs of our patients and their families alike.
Your Care Team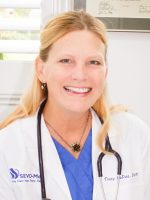 Radiation Oncologist: Tracy LaDue, DVM, DACVIM (Oncology), DACVR (Radiation Oncology)
Dr. LaDue has been a practicing, board-certified radiation oncologist since 2000. In 2004, she started Southeast Veterinary Oncology (SEVO) as the first veterinary oncology practice in Jacksonville. Dr. LaDue has been the owner, lead radiation oncologist and lead medical oncologist ever since. SEVO added an internal medicine service in 2011 to become SEVO-Med and opened a second location in Jacksonville Beach in 2015. Both locations reflect her ambition to provide high-quality specialty care in a personal, family-oriented environment.
A Kentucky native, Dr. LaDue grew up in a pet-loving family surrounded by animals. She knew from the time she was in the 6th grade that she wanted to be a veterinarian. That dream became a reality at North Carolina State University, where she earned a Bachelor of Science in Zoology, a Doctor of Veterinary Medicine (DVM) degree, and board certification in medical oncology (1998). From there, she headed to Southwest Veterinary Oncology in Tucson, Arizona for a residency in radiation oncology, earning board-certification in that field in 2000. Dr. LaDue then moved back to Florida and practiced in Tampa for four years before arriving in Jacksonville.
PetCure Radiation Oncologist: Molly Holmes, DVM, DACVR (RO)

Dr. Holmes joined PetCure Oncology in November 2021 and is a board-certified veterinary radiation oncologist. As one of PetCure's remote radiation oncologists, she conducts Telehealth Visits and oversees radiation treatment planning for PetCure's treatment centers in Houston, TX and Jacksonville, FL. Prior to joining Petcure Oncology, Dr. Holmes was the head of radiation oncology in a private veterinary practices in Richmond, VA and Atlanta, GA. She studied Biology at Georgia Southern University and went on to earn her DVM from the University of Georgia College of Veterinary Medicine in 2014. In 2017, Dr. Holmes completed her residency in radiation oncology at Tufts University followed by a postdoctoral fellowship at Colorado State University. Dr. Holmes currently serves as secretary of the American College of Veterinary Radiology and is an active member of multiple professional veterinary organizations including the American College of Veterinary Radiology, the Veterinary Cancer Society, the American Veterinary Medical Association and the Georgia Veterinary Medical Society.
Learn more about Dr. LaDue and the rest of PetCure Oncology's clinical specialists.
Hospital Manager (SEVO-Med): Caitlin Chandler
Client Care Coordinator: Taylor Crawford
Board-Certified Medical Oncologists: Dr. Kristina Miller (Orange Park), Dr. Zachary Neumann (Jacksonville) and Dr. Samantha Haas (both)
Board-Certified Internists: Dr. Abigail Walls (Orange Park) and Dr. Krysta Deitz (Jacksonville)
Radiation Therapist: Julieth R., R.T. (T)
Veterinary Nurse: Marsha J.
Team Email: Petcure.SEVO@ThrivePet.com
How To Make An Appointment
Simply give us a call at (833) PET-HERO.
We will reach out to your family veterinarian to make all the arrangements and obtain your pet's medical records. To get the most complete picture in advance of your visit, our specialists will discuss your pet's medical history with your family veterinarian before you come in for a consultation. You will also be asked to complete some forms before your visit.
On the day of your appointment, Dr. LaDue will examine your pet and answer any questions you have. Together, we will work out the best treatment plan possible and start your pet's journey toward better health.
Learn more about what to expect during your visit.
If You Are Traveling From Out-Of-Town
We want to make your visit as easy and stress-free as possible. If you would like assistance finding pet-friendly hotels and restaurants nearby, we are happy to help. Also, see our Tips For Traveling With Your Pet For Cancer Treatment. If you have any other questions, simply ask one of our client service representatives.
Referral Form
To help make your transition to PetCure Oncology easier, please ask your veterinarian to complete our Veterinarian Referral Form.
If you or your veterinarian have any questions, please give us a call at (833) PET-HERO. We are here to help.

JACKSONVILLE PRESS RELEASE: Extraordinary New Cancer Treatment for Pets Coming to Northeast Florida
Save
Save
Save
Save
Save
Save
Save
Save
Save
Save
Save
Save
Save
Save
Save
Save
Save
Save
Save
Save
Save
Save
Save
Save
Save
Save
Save
Save
Save
Save
Save
Save
Save
Save
Save
Save
Save
Save
Save
Save
Save
Save
Save
Save
Save
Save
Save
Save
Save
Save
Save
Save
Save
Save
Save
Save
Save
Save
Save
Save
Save
Save
Save
Save
Save
Save
Save
Save
Save
Save
Save
Save
Save
Save
Save
Save
Save
Save
Save
Save
Save
Save
Save
Save
Save
Save
Save
Save
Save
Save
Save
Save
Save
Save
Save
Save
Save
Save
Save
Save
Save
Save
Save
Save
Save
Save
Save
Save
Save
Save
Save
Save
Save
Save
Save
Save
Save
Save
Save
Save
---