PetCure Oncology Featured In The Washington Post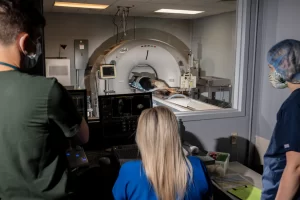 We are honored to have PetCure Oncology featured in the Washington Post. The writer, Kim Kavin gives an excellent and well-researched summary of the rising cost of veterinary medicine while sharing her testament to its effectiveness. She focuses on her personal story of how Stereotactic Radiation (SRS/SRT) treatment saved her dog Blue. Kavin offers her analysis of the cost-benefit trade-off of giving pets the same level of cancer treatment as humans, and how in her case it was well justified.
Kavin highlights the life-saving SRS treatment offered by PetCure on the campus of Northstar VETS in Robbinsville, New Jersey. The treatment itself, she notes, was used to save the lives of both former President Jimmy Carter and Justice Ruth Bader Ginsburg in the past, showcasing its state-of-the-art capabilities and benefits. The effectiveness of this treatment is highlighted by Kavin as a worthwhile investment for the additional months of companionship it was able to bring to her and Blue. She also discusses the value of purchasing pet insurance when a pet is young and how that allowed her to afford the treatment. She goes so far as to say that she wouldn't even consider having another dog in the future without pet insurance.