PetCure Oncology at SLVS – Houston, Texas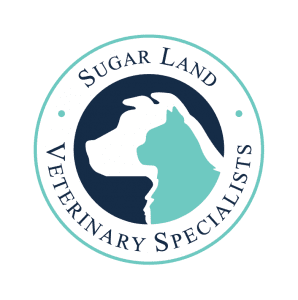 In the Houston, Texas area, PetCure Oncology has partnered with Sugar Land Veterinary Specialists (SLVS) to offer comprehensive cancer care for pets under one roof. SLVS is a 24/7 multi-specialty center with a full complement of specialty services and board-certified specialists, now including radiation oncology, medical oncology, neurology, surgery, internal medicine and diagnostic imaging.
The SLVS team is known for providing the best possible veterinary specialty and emergency care for pets and their owners with outstanding customer service, understanding, compassion and communication. PetCure and SLVS both believe in approaching specialty care with a team approach, ensuring that your pet will benefit from clinical collaboration with expertise in any specialty area or treatment option that may be deemed appropriate. Our experienced, compassionate specialists provide cancer treatment for dogs and cats in and around Houston, including tumor removal.
Your Care Team
PetCure Radiation Oncologist: Molly Holmes, DVM, DACVR (RO)
SLVS Medical Oncologist: Andrew Novosad, DVM, DACVIM (Oncology)
Dr. Novosad joined Sugar Land Veterinary Specialists in 2008. Prior to joining the SLVS team, he spent six years in private referral practice in the Dallas area. He earned his DVM at Louisiana State University and completed his internship in Small Animal Medicine and Surgery, and residency in Medical Oncology, at Animal Medical Center in New York City. His clinical interests include lymphoproliferative disorders, melanoma, and novel anti-cancer agents.  In 2017, Dr. Novosad became the first veterinary oncologist to receive the Texas Academy of Veterinary Practice Clinical Referral and Consultation Award.  Outside of work, Dr. Novosad enjoys college football (Geaux Tigers!!!) and is an avid runner.
SLVS Hospital Administrator: Heather Matthews
Hospitalist: Jane Rowlands, DVM
Radiation Therapist: Marissa M., R.T. (T)
Veterinary Technician: Samantha R., LVT
Veterinary Technician: Heather K.
Team Email: SLVS@PetCureOncology.com
How To Make An Appointment
Simply give us a call at (833) PET-HERO.
We will reach out to your family veterinarian to make all the arrangements and obtain your pet's medical records. To get the most complete picture in advance of your visit, our specialists will discuss your pet's medical history with your family veterinarian before you come in for a consultation. You will also be asked to complete some forms before your visit.
On the day of your appointment, a specialist will examine your pet and answer any questions you have. Together, we will work out the best treatment plan possible and start your pet's journey toward better health.

If You Are Traveling From Out-Of-Town
We want to make your visit as easy and stress-free as possible. If you would like assistance finding pet-friendly hotels and restaurants nearby, we are happy to help. Also, see our Tips For Traveling With Your Pet For Cancer Treatment. If you have any other questions, simply ask one of our client service representatives.
Referral Form
To help make your transition to PetCure Oncology easier, please ask your veterinarian to complete our Veterinarian Referral Form.
If you or your veterinarian have any questions, please give us a call at (833) PET-HERO. We are here to help.
---