Bella, a Canine Cancer Survivor, Celebrates 10th Birthday on Christmas Day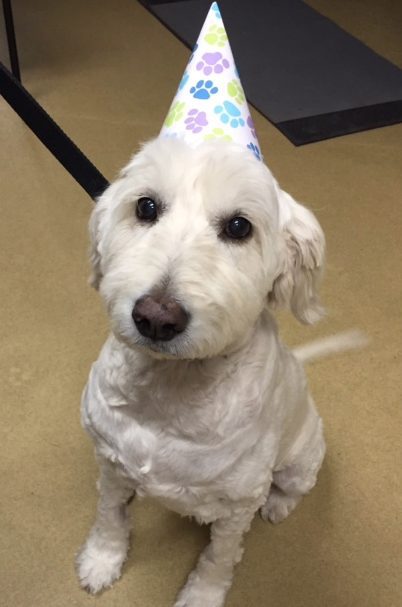 Bella is a fun-loving, bright-eyed white Golden Doodle. She loves to take walks, play with her other fur-friends and occasionally hunt a bird in our back yard. She doesn't retrieve balls and doesn't like to swim, but what's most important to Bella is to "love and be loved" by anyone and everyone from whom she can get the attention. Bella will celebrate her 10th birthday on Christmas day.
In May 2015, I took Bella to the veterinarian to have a fairly large lump on her chest checked. This lump was tested and found to be a lipoma, otherwise known as a benign fatty tumor. Without any other thoughts, we went on our happy way knowing our concerns were dismissed. It wasn't until about 3 months later that we found a new lump growing on her hind-side. This lump had grown rapidly to the size of a racquetball in a very short period of time. We knew by the feel of it that this was very different from the previous fatty tumors she's had. This tumor was rather hard and seemed to own its place on Bella's bottom. We returned to our veterinarian to test the tumor and it was diagnosed as a Hemangiopericytoma, otherwise classified as a Soft Tissue Sarcoma. This time it was cancerous and it was lying right on her sciatic nerve.
Initially, I elected to have the tumor surgically removed. Coincidently, I happen to work for PetCure Oncology, where I spend my days discussing cancer treatment with veterinarians and their staff. I was compelled to see if Bella was a candidate for any of these cancer care options. I spoke with Dr. Eric Boshoven, Radiation Oncologist at Arizona Veterinary Oncology in Gilbert, who offered several scenarios.
If I elected to have surgery and the margins were clean – meaning that the cancer was fully removed – then we're done!
If the margins after surgery were not clean, then I would need to consider conventional radiation for Bella with 19 fractions, or treatment sessions, of radiation to ensure the cancer was further controlled.
Another option was Stereotactic Radiosurgery (SRS), which is 1-3 fractions of radiation targeted precisely at her tumor site. SRS would shrink her tumor, encapsulating it away from her sciatic nerve; killing the cancer cells.
With all this information, I found myself standing in the shoes of many of our PetCure clients trying to weigh the options for Bella. I had to make a decision independent of my employer that would be the best for Bella's prognosis in the long-run. After getting confirmation that Bella and her cancer type made her a candidate for SRS, we decided this would be our best option for her treatment. SRS was most appealing because it required less radiation treatments (1-3), which meant less anesthesia for Bella. This technology would deliver radiation specifically to the tumor site, and because of that the risk of side effects were far fewer. Stereotactic Radiosurgery was our curative option for Bella.
Bella completed her SRS radiation treatments in early November. She came home from her treatments each day as if it were any other ordinary day. She still took her walks, played, slept well and ate her meals without any problems. Since her treatments we have noticed her tumor is less rigid and getting smaller. When we took Bella for her follow-up visit, Dr. Boshoven noted that the tumor had indeed shrunk, which is a great sign! We are very pleased with our decision and can't thank Dr. Boshoven and his staff enough for their excellent care of Bella, our little cancer survivor!
RELATED: Cancer in Dogs, Lipomas in Dogs
This personal blog entry was contributed by Jill MacKenzie, PetCure Oncology's Program Director in the Phoenix region and the proud pet parent of Bella, a 10-year-old Golden Doodle and cancer survivor.