PetCure Oncology Launches Clinical Trial for Canine Lung Tumors
Chicago, IL – March 14, 2017 – In the world of pet cancer, lung tumors are a particularly nasty foe. But hope is on the horizon. PetCure Oncology, a national provider of cancer care for pets, is now recruiting candidates for a clinical trial intended to test a theory that has already been proven in human medicine:
Stereotactic radiosurgery (SRS) could be the answer for many patients suffering from lung cancer.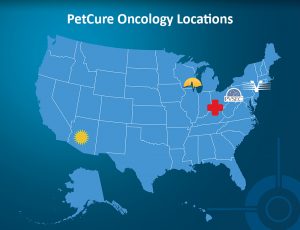 SRS has been a standard of care in human oncology for decades, combining radiation therapy with advanced technology to deliver radiation with sub-millimeter precision, fewer side effects, and sometimes even curative intent. More recently, SRS has also become the treatment of choice for humans with primary lung tumors. At the American Society for Radiation Oncology (ASTRO) annual meeting in the fall of 2016, a study of lung cancer patients across the Veterans Health Administration found that radiation delivered stereotactically led to "improved survival" and "a 40 percent decrease in the risk of death."
"SRS has been used to successfully treat lung tumors in humans, in large part because it is noninvasive and highly targeted," added Dr. Neal Mauldin, PetCure Oncology's chief medical officer and a triple-board certified radiation oncologist. "Studies have revealed that SRS is well-tolerated by the patient, results in minimal complications or side effects, maintains or improves quality of life, and results in equivalent survival times when compared to surgery for patients with operable tumors."
For that reason, the clinical trial is intended to prove a simple hypothesis: Dogs with primary lung tumors can also be safely and effectively treated with image-guided SRS.
Learn more about this trial.
Interested pet owners or veterinarians are encouraged to visit PetCureOncology.com/Trials for details of the study and online application forms. Enrolled patients will be treated at a heavily subsidized cost and pet owners will benefit from free pre-treatment consults and imaging (CT) as well as free post-treatment checkups and follow-up imaging. For entry into the study, candidates must have a primary lung tumor that has not metastasized. A full list of exclusions can be found on the website.
Just a few years ago, the significant benefits of SRS were largely available only to human cancer patients. PetCure Oncology has changed that by creating comprehensive veterinary cancer centers that specialize in radiation oncology and SRS. Less than two years since launching its first center, PetCure has emerged as the leading provider of SRS for pets in the country, treating nearly 700 pet patients across what is now a growing, five-site national network. Two-thirds of those patients have been treated with SRS, whose benefits include fewer treatments, shorter treatment times, and minimal side effects.
To learn more about PetCure Oncology or SRS, visit PetCureOncology.com or call (773) 850-3400.
###
Media Contact:
Ben Chiswick
Director of Marketing Communications
PetCure Oncology
773.850.3402 | BChiswick@PetCureOncology.com
Save