Help, my pet has cancer
When your dog or cat gets that heartbreaking cancer diagnosis, it creates a lot of uncertainty, fear and stress. We know how you feel—and we're here to help. At PetCure Oncology, we believe that the more you know about pet cancer care options and what to expect from treatment, the better it is for you, your family and your pet.
Hope starts here
The first step is a consultation with one of our partner specialty hospitals.
Typically, an initial consult will include a general physical with a veterinarian and a confirmation of the cancer diagnosis. A specialist will determine the type, size, location and stage of the cancer, which may involve additional testing such as a CT scan or biopsy. Working together, with a clear understanding of your pet's cancer, we will present the full range of treatment options and help you make an informed decision.
---
---
If stereotactic radiosurgery (SRS) is chosen, here is a general guide to what you can expect:
7 things you should know about SRS treatment
Start with a detailed scan of your pet's tumor
First, we will capture a detailed view of the cancer within your pet's body through advanced imaging. This will likely involve a CT (computed tomography) scan to obtain images of your pet's tumor. An MRI (magnetic resonance imaging) scan may also be performed for brain tumors. These images are converted into a custom three-dimensional model of your pet's internal anatomy.
Every treatment plan is customized
Then, using a powerful computer program, a treatment plan will be created based on tumor size, shape and location. The proper radiation dose will be calculated, including the number of treatment sessions your pet will need (between one and three).
Treatment is delivered with cutting-edge technology
Once the treatment plan is developed, the first treatment begins. The radiation is delivered by a machine called a linear accelerator, which generates precise, narrow beams of radiation that target a tumor with minimal damage to nearby healthy tissue.
Every pet is different
Treatment times vary depending on tumor size, location and number of tumors. On average, treatments last 15 to 20 minutes but for difficult cases may take up to an hour. We'll do our best to provide an estimate prior to the start of treatment.
Anesthesia is used for best results
Because your pet must lie completely still during treatment, anesthesia is administered before each treatment session and during the initial treatment planning.
Pets are closely monitored
All treatments are delivered with human-based standards for care and safety. Every treatment plan is overseen by two board-certified radiation oncologists and our highly-trained team adheres to a strict set of guidelines designed to optimize patient safety and outcomes.
It's back to play time!
Since there are such minimal side effects from SRS, most pets can resume normal activities right after treatment.
Our goal is to support you in finding the best treatment option for your pet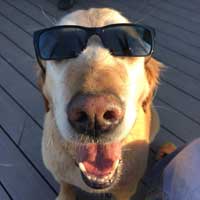 Be inspired by our pet hero stories
Meet Mark "the lovable golden" and some of the special pets treated with SRS.
MEET OUR PET HEROES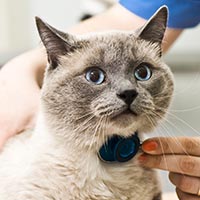 Is SRS right for your pet?
If your pet has cancer, contact the PetCure Oncology location near you and we will help you determine the best course of treatment.
FIND YOUR PETCURE TEAM