Paddy's Fight Against Feline Brain Cancer – One Year Later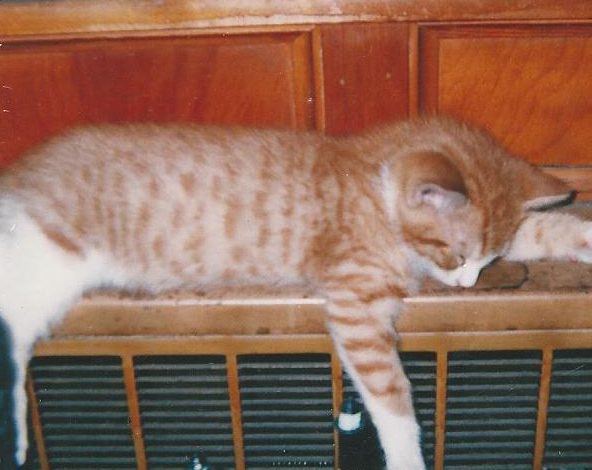 Paddy, an orange and white Tabby, is a prominent member of Christine Ford's family. He was first a companion for Christine's mother and sister. After they both passed away, Paddy became a comforting friend for Christine. She vowed to take great care of her feline friend.
Signs & Symptoms
 In November 2016, Paddy began exhibiting some strange behaviors, including walking around in circles and staring at blank walls. Alarmed, Christine immediately took Paddy to his primary care veterinarian in Albany, NY. The veterinarian suspected that Paddy's symptoms were indicative of a brain tumor and referred him to a board-certified veterinary neurologist.
An MRI confirmed that Paddy had three meningioma tumors, a common brain cancer in felines that affect the connective tissue around the brain and spine. Christine was devastated but wanted to seek treatment to provide Paddy with the best quality of life.
The neurologist referred them to PetCure Oncology and explained that stereotactic radiation (SRS/SRT), an advanced form of radiation therapy, would be the best option for a possible cure.
At the time of Paddy's diagnosis in 2016, the PetCure Oncology site nearest to Christine's home was in Cincinnati, Ohio at Care Center. Despite needing to travel more than 700 miles, Christine didn't hesitate for a moment. She decided to move forward with SRS/SRT. Fortunately, Christine had her dear friend Rita Hoffman to accompany her and Paddy on the arduous trip. Rita was the first person to notice Paddy's symptoms and she wanted to ensure that both Paddy and Christine were well taken care of during the treatment.
PetCure Oncology assisted Christine with her travel plans, including booking a room at a pet-friendly hotel near the hospital. She was grateful as it was one thing less to worry about.
Treatment – Stereotactic Radiation
In December 2016, Christine, Rita, and Paddy made the journey from Albany to Cincinnati to begin treatment. Paddy received one session of SRS/SRT that targeted all three brain tumors. Over time, the radiation would attack the brain cancer and help shrink the tumors. Paddy was also prescribed a regimen of steroids to relieve the pressure on his spine.
During treatment, the staff checked in with Christine to give her regular updates on Paddy. Christine was impressed not only by the success of the radiation treatment but by the level of care and compassion the entire staff showed to Paddy.
 A Year Later
One year after later, Paddy no longer exhibits any symptoms and the tumors have shrunk significantly. He also seems relaxed, content, and healthy for a 15-year-old cat who has survived brain cancer.
Christine said she would recommend PetCure Oncology and SRS/SRT to all fellow pet parents. "The treatment gave Paddy a second chance," said Christine. "Now he gets to live a longer, happy and more comfortable life."
Which is precisely what all pet parents want for their furry family members.
If Your Pet Is Diagnosed with Cancer, PetCure Oncology Can Help
Our team is ready to offer you guidance on your pet's cancer journey. To speak with a member of our Pet Advocate team, please call 883-PET-HERO.
RELATED: Brain Cancer in Dogs