World Veterinary Day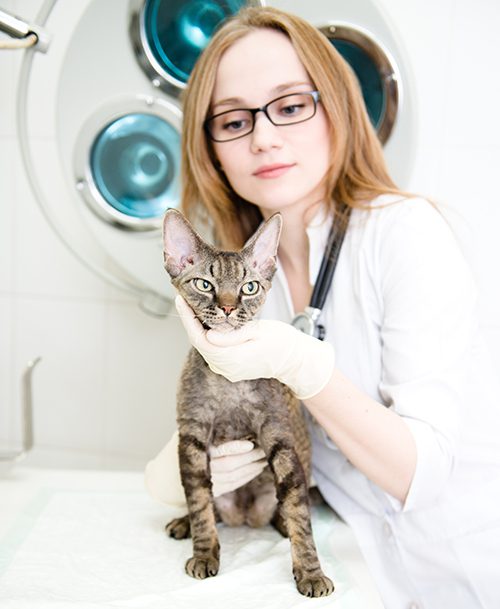 Veterinarians are truly special people. They work tirelessly to provide medical care to animals—patients that cannot verbally communicate where or how they are hurting. In appreciation, the World Veterinary Association (WVA) has named the last Saturday in April World Veterinary Day to recognize the critical role veterinarians play in protecting animal and human health.
World Veterinary Day is held on the last Saturday of April.
At PetCure Oncology, we work closely with many veterinarians in both clinical and research settings. Whether they are delivering high doses of targeted radiation to treat a brain tumor or running a new clinical study on pet cancer, we are always inspired by the life-saving work veterinarians do every day.
One Health—We're All Connected
The theme for this year's World Veterinary Day is "Continuing Education with a One Health Focus." The One Health Initiative revolves around the idea that humans, animals and the environment are all connected. It promotes collaboration and education between professionals in the veterinary and human medical fields to improve the health of all living things. The World Veterinary Day theme supports the role of veterinarians in the One Health Initiative through translational medical research:
"Veterinarians play a crucial role in protecting global health. In all areas of the profession, they have opportunities and responsibilities to improve the health and welfare of animals and, therefore, to improve the health of humans."
Another example of how health care professionals work together under the One Health Initiative could be seen at this year's Zoobiquity 6 Conference.
"Zoobiquity springs from a simple but revelatory fact: Animals and humans get the same diseases, yet physicians and veterinarians rarely consult with one another. Zoobiquity explores how human and non-human animal commonalities can be used to diagnose, treat, and heal patients of all species."
For example, how does a dog with skin issues affect human medicine? What can we learn about human psychological issues from a feather-plucking parrot? Can a baboon with diabetes teach us anything about human health?
At PetCure Oncology, we fully support the One Health Initiative. It's why we can do what we do. Seeing the success of stereotactic radiosurgery (SRS) in human medicine allowed us to bring this technology to veterinary medicine. Because of that, we can help pets with cancer have a chance to beat cancer. This has allowed us to change the conversation surrounding cancer care from "Let's maintain quality of life for this pet" to "Let's try to cure this pet."
Only through teamwork between veterinarians and physicians were we able to bring new treatment options to pets with cancer, and we couldn't be more grateful.
To fulfill our mission to revolutionize cancer care for pets, we believe we need to work with the best minds in veterinary and human medicine. That is one reason why we created a Scientific Advisory Board to guide us in establishing best practices and protocols for treating cancer.
In support of this year's World Veterinary Day, join us in thanking a veterinarian in your life with a card, flowers or even a simple "thank you" for the love they show animals every day. We also hope this year's One Health theme will inspire you!