Primary Care Veterinarians
The Best Cancer Care Starts With You
Fighting cancer is a team effort, and it starts with the primary care veterinarian. While we recommend referring any suspected or diagnosed cancer to a board-certified veterinary oncologist, there are a number of diagnostic steps that every dog or cat with cancer will need – and they can be done in many primary care clinics before the patient is referred.
PetCure Oncology has developed continuing education around these initial diagnostics in order to help primary care veterinarians support their patients with cancer. In this AAVSB RACE-approved CE program, a PetCure oncologist will present the basic workup steps necessary to confirm and stage a pet's cancer within a primary care clinic. Participating veterinarians also receive supporting educational resources and ongoing access to the PetCure clinical team.
Set Your Dog & Cat Patients Up For Best Possible Outcomes
In the world of oncology, early intervention is critical to long-term success. The moment cancer is suspected, the workup process begins to confirm a diagnosis (if possible), stage and grade the cancer, and begin exploring treatment options. The more efficiently a pet patient can move through the process, the better the chances become to improve their quality and quantity of life. Benefits of beginning the workup in your clinic before referring the patient include: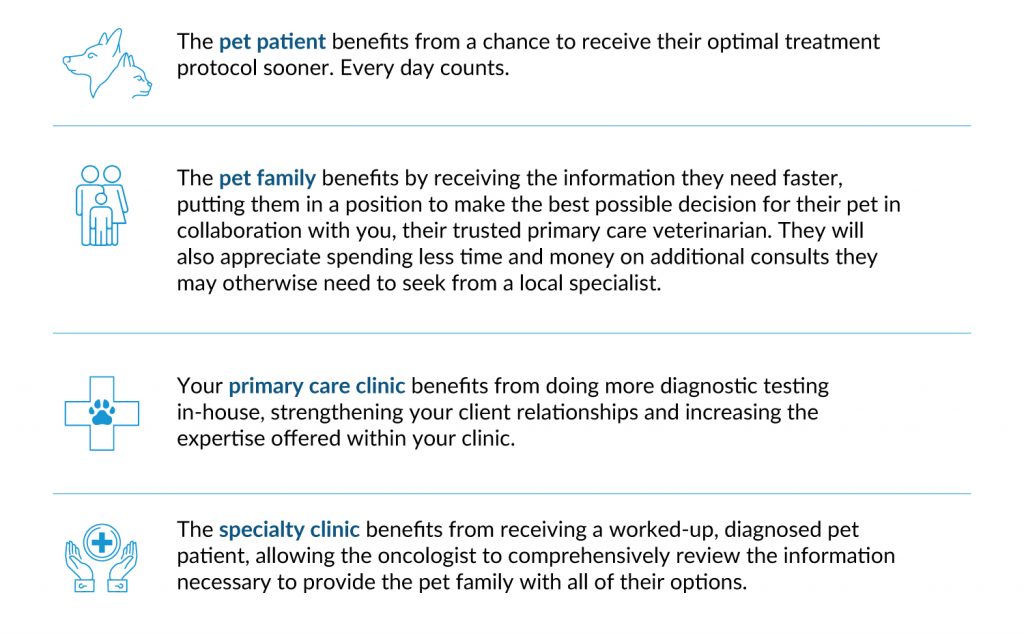 When We Work Together, Everybody Benefits – Especially The Patient.
Suspect Cancer? What Next?
Once cancer is suspected, there are a few easy steps that many primary care clinics can do to start the staging workup process for your dog or cat. Almost all pets with cancer will need these tests within 30 days of any advanced cancer treatment.

Collaborative Cancer Care
Continuing Education offered by PetCure Oncology
PetCure Oncology believes in breaking down barriers and collaborating with our colleagues in veterinary medicine to ensure that dogs, cats, and other animals get the best in comprehensive cancer care. We would love the opportunity to provide continuing education for your practice on this topic and build an ongoing relationship to support your patients with cancer. If you're interested in CE for your practice, please fill out the short form below.