Pet Cancer Treatment
Treatment At PetCure-Affiliated Animal Hospitals

More Than 7,000 Pets With Cancer Treated Since 2015

We believe pets are a part of our families. That's why our founder and CEO, Scott Milligan, started PetCure Oncology. When his family's dog, Juliette, was diagnosed with a nasal tumor, he was told there was nothing that could be done for her. But Scott knew that the technology to save Juliette was available – but only for humans, not pets.
We're on a mission to provide pets and their families with broad access to advanced cancer treatment technology and connect them with the very best, highly compassionate veterinary specialists to deliver treatment. Today, that comes largely in the form of stereotactic radiation (SRS/SRT). While SRS/SRT was not an option for Juliette, PetCure Oncology is determined to make sure that today's pets have access to potentially life-saving cancer care.
What You Need To Know About Stereotactic Radiation (SRS/SRT)

Stereotactic radiation (SRS/SRT) is an advanced form of radiation therapy that can lead to more quality time with your dog or cat. SRS/SRT is a non-surgical procedure offering many benefits that make it a powerful option for many pets with cancer. This treatment has worked on many cancers once considered 'untreatable' and its precision means we can deliver a higher dose of radiation to a specific target in a single treatment session. This also helps to minimize the side effects for your pet. PetCure Oncology's growing national network has made this treatment more widely available to pets. Get in touch with us to discover if it's an appropriate treatment option for your pet.
What Makes PetCure Oncology Different?
At PetCure Oncology, we have an established network of highly experienced teams of veterinary radiation oncologists. We work together to share our knowledge and resources to ensure each pet receives the best treatment possible. We also use best practice protocols and have stringent controls in place to ensure your pet's radiation therapy is precisely delivered and managed. Our caring team provides exemplary clinical care, emotional support, and can help with any logistics required when looking after your pet. We understand how the cancer treatment journey can affect your entire family and how difficult this time can be, so we offer you support every step of the way. Finally, we're also flexible in our delivery approach, using technology and our extensive network across the United States to help provide you with support where and when you need it. 
What to Expect with Your Pet's Treatment
At PetCure Oncology, we believe in transparency and want you to feel comfortable and informed about the treatment process your pet will be going through. It begins with a CT scan to understand your pet's tumor, which is then used to customize a treatment plan based on the tumor type, size, shape, and location. This step involves assessing the appropriate radiation dose and working out how many sessions your pet may need. Then, we use cutting-edge technology to deliver the treatment, with treatment times varying depending on your pet's tumor. It's essential that your pet is entirely still during the process, so we administer anesthesia before each session to ensure their safety. 
Medical Oncology For Your Pet
In addition to our core focus on radiation oncology, PetCure also employs a number of board-certified medical oncologists and has one medical oncology treatment center in Clifton, NJ.. Medical oncologists are trained to diagnose the presence of cancer, work it up, and recommend the best treatment option(s) for each individual pet. Medical oncologists can treat cancer through chemotherapy or other drugs, and often collaborate with other specialists like radiation oncologists or surgeons to provide courses of therapy that may involve multiple forms of treatment. Our team's priority is to confirm or diagnose your pet's cancer to help work out the most appropriate form of treatment. Our oncologists also work closely with your primary care veterinarian for consistent care.
PetCure Clinical Trials & Research

At PetCure Oncology, we're passionate about advancing pet cancer care and are constantly researching and collaborating on the latest innovations in cancer treatment. Whether you're a pet parent or a veterinarian, we sponsor various clinical trials that you may be able to take part in. 
Payment Support Options
Our client care representatives can help you understand all fees and payment options relating to your pet's cancer treatment. In addition, they're available to assist with submitting claims for insurance or to apply for financing. Many pet insurance companies provide coverage for cancer care, although the policy must be in place before a cancer diagnosis is made. The PetCure Oncology national network also offers financing options through CareCredit. 
We believe all pet owners should know about this potentially life-saving treatment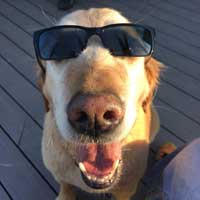 Be inspired by our pet hero stories
Meet Mark "the lovable golden" and some of the special pets treated with SRS.
MEET OUR PET HEROES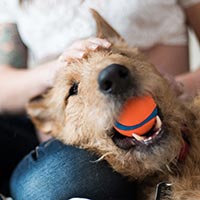 What can you expect?
We understand how stressful it can be when a beloved pet must undergo treatment for cancer. PetCure Oncology will give you a guide to the next steps.
UNDERSTAND YOUR PET'S PATH