Pet Hero: Sundance Walks Again Following Cancer Treatment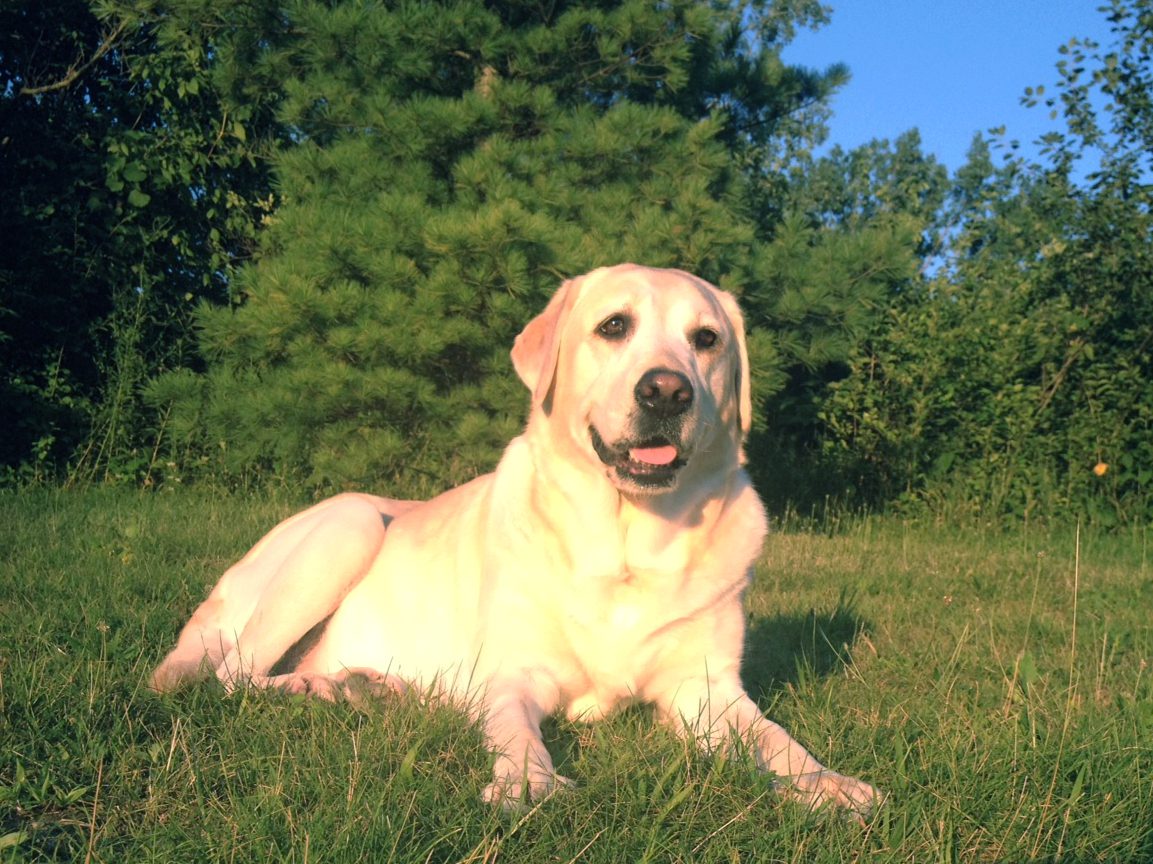 Sundance Benik
Sundance, or Sunny, is a yellow Labrador owned by Tom and MaryAnn Benik of Franklin County, Ohio. She joined the family in 2008 as a puppy. Tom says, "There's not a mean bone in her body. She's trained very well. Sunny has assigned chores. She gets the newspaper from the mailman every day. She fetches slippers and tennis shoes. She's a great dog, and she's been that way her whole life."
After eight years of being a healthy dog, Sunny began to show signs of pain in September 2016. They took her to her primary care veterinarian. A lump the size of a walnut was found on her back; it then grew to the size of a tennis ball in about two weeks.
Sundance is diagnosed with cancer
A surgical biopsy performed on September 27, 2016, revealed the tumor was cancerous. Sunny had chondrosarcoma, a type of cancer in the bones and joints. Her cancer was causing a compression of her spinal cord, and shortly after the diagnosis she lost coordination in her back legs and was unable to walk.
Chondrosarcoma is an aggressive cancer that requires prompt treatment. An MRI determined that Sundance was not a good surgical candidate due to the advanced stage of her disease. Another option presented to the Beniks was stereotactic radiosurgery (SRS). Compared to conventional radiation therapy, SRS is able to target the tumor with sub-millimeter precision, thereby reducing treatment sessions under anesthesia by 80-95%. SRS can be performed in just 1 to 3 sessions, and with little to no side effects.
Stereotactic Radiosurgery (SRS) for Sundance
Because Sunny is an active dog that loves to run and swim, Tom and MaryAnn were—above all else—concerned about her quality of life. SRS would shrink the tumor as well as help reduce inflammation, which would make Sundance more comfortable. The Beniks were referred to PetCure Oncology at Care Center in Cincinnati, Ohio, one of only a handful of places in the United States offering SRS for pets. Sunny received three sessions of radiation in mid-October 2016 and experienced no side effects.
Sundance is back on her feet
Up until her radiation treatment, Sunny was not able to use her back legs. But one week after treatment, she was able to stand on all four legs and walk slowly. It's been a little over two months since Sunny had treatment, and we are happy to share Tom's update on how she's doing:
"Although not nearly 100% she has shown remarkable strides in improvement. The kid's overall and mental recovery has been really great. We're cautiously optimistic for continual improvement. She's gotten used to walking with a little wobbliness, but she isn't in any discomfort or distress. If she was in any pain, she would let me know. She's real good about letting you know what's going on. We're keeping our fingers crossed. When we thought about the cost, we asked ourselves, 'Is this cost going to affect our way of life? No, not really. If she's gone from our life, will it affect our life? You bet it will!' So far, we're happy we made the investment."
Two months later, not only is Sundance able to walk around, but she is back to fetching the mail!
Pet Hero Sundance swimming 3 weeks after treatment
Pet Hero Sundance fetches mail 2 months after treatment