Pet Hero: Rupert, The Relaxed Pug
Rupert is a 9-year-old pug from Pennsylvania. He enjoys spending his time relaxing, sleeping, and eating. He also likes to play with his toys and his two dog brothers Nitro and Toby. Rupert was the first pet of the family and holds a special place in his parent's hearts.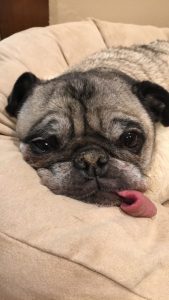 Signs & Symptoms of Cancer
In February of 2018, Rupert's mom, Becky, noticed that one side of his head seemed abnormal. She noticed that his head had a dip on one side, he wasn't blinking normally and had dry eye on the same side as the dip. She quickly took action and brought Rupert to Pittsburgh Veterinary Specialty & Emergency Center. The doctors there thought there may be an issue with his brain that could be affecting his eye. Rupert received an MRI of his brain which lead to the diagnosis of a brain tumor. His family was shocked and devastated by the news but knew they had to get him treatment.
"We never have them [pets] long enough and having the option to extend that time is priceless," explains Becky.
SRS/SRT
Becky was referred to PetCure Oncology at PVSEC for treatment of Rupert's brain tumor. Rupert was evaluated during his consultation and it was determined that stereotactic radiation (SRS/SRT) was the best treatment plan. As any pet parent would be, Becky was scared but ultimately she trusted the Dr. and went through with treatment. She remembers feeling very well taken care of which helped to put her mind at ease.
"The moment we walked in, we knew we were in the right place. They knew what they were doing, and he was right where he needed to be," Becky said.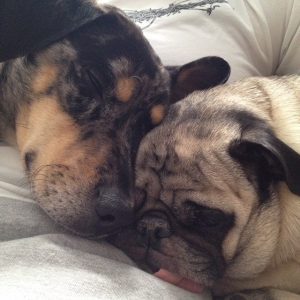 Follow-up
During treatment, Becky recalls that Rupert was a bit groggy but otherwise himself. A few days after treatment he was already eager to go for short walks. Currently, he is so much like his pre-cancer self, that his family jokes that they forget he even had treatment.
If Your Pet Is Diagnosed with Cancer, PetCure Oncology Can Help
Our team is ready to offer you guidance on your pet's cancer journey. To speak with a member of our Pet Advocate team, please call 883-PET-HERO.