Pet Hero: Rufus the Big Lovable Mastiff Mix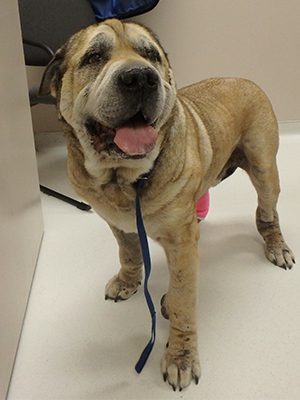 Rufus is a 12-year-old Mastiff/Shar-Pei mix that enjoys lying in the sun and rolling around in the grass. His owners, Karen and Lee Dickson, rescued Rufus in 2005 when he was about a year old. At that time the Dicksons were living in London. Lee had noticed a woman walking Rufus and commented on how handsome he was. Turns out the woman rescued Rufus from abusive owners and was trying to find Rufus a new home. She asked if Lee wanted to take him. It didn't take long to decide. The Dicksons added Rufus to their family, and he's planted his big lovable self firmly in their hearts ever since.
10 Years Later
Fast forward 10 years and the Dicksons moved back to the United States to Louisville, Kentucky. They've since added many more pets to their home. As avid supporters of animal rescue and adoption, the Dicksons have multiple dogs (both foster and adopted) at their ranch house. Rufus gets along well with his pet siblings. "Rufus is kind of an old soul. He was really boisterous when he was younger, but now that he's older, he's laid back. He tolerates all his doggy siblings and gets along with everyone," said Karen.
Rufus Is Diagnosed with Cancer
The Dicksons think of Rufus as part of the family. So, when he was diagnosed with bone cancer (osteosarcoma) in his front right leg, they wanted to do everything they could to help him.
In the summer of 2015, Karen noticed that 10-year-old Rufus was limping. At first she thought he might have injured his nail or had a sore paw pad, but discovered a lump on his right front leg, above the wrist. She took him to his primary care veterinarian, Dr. Amanda Brown at Hopewell Animal Hospital. They took an x-ray of Rufus's leg and a radiologist confirmed that Rufus had bone cancer.
Treatment Options for Rufus's Osteosarcoma
Karen was referred to a specialty hospital to discuss treatment options for Rufus. They were given two options: amputation or euthanasia. For Karen, neither was an option. "He's a large dog, over 100 pounds. Amputation would have been hard on Rufus. I didn't want him to go through that. And euthanasia was not an option. I could tell he didn't want to die. He had a pretty good quality of life."
Karen remembered Dr. Brown mentioning a new treatment option available in Cincinnati, Ohio at PetCure Oncology at Care Center called stereotactic radiosurgery (SRS). She went home and researched SRS, and decided to pursue it. A consultation was set up and it was determined that Rufus was a good candidate.
Stereotactic Radiosurgery (SRS) for Rufus
SRS is an advanced form of radiation therapy that targets a tumor with submillimeter precision. It's noninvasive with fast recovery. And unlike conventional fractionated radiation therapy (CFRT), SRS can be delivered in one to three sessions – instead of the typical 15 to 30. For Karen, SRS was the only option for Rufus. He would be able to receive treatment, come home, and take it easy while the radiation did its work. Rufus would not need to undergo an aggressive surgery followed by months of rehabilitation, which would have been the case with amputation.
Rufus received one fraction (one treatment session) of radiation on September 29, 2015. It was recommended that Rufus's treatment plan include chemotherapy and bisphosphonates (bone strengthening) treatments. After a few months of chemotherapy infusions, Rufus is now on maintenance chemotherapy where he takes a pill every other day. He continues to receive bisphosphonate infusions every six weeks.
"He hasn't changed much. He's not alone during the day. We make it our goal to watch over him," said Karen. "He's kind of the pamper prince. We're so grateful to have him still."
Rufus Is Enjoying Life
We are happy to report that it's been over 18 months since Rufus received SRS, and he is still doing great! Recently, Karen sent us a lovely message with photos of Rufus:
"Dr. Brown said he must be the luckiest dog she has ever seen! Rufus has enjoyed 1.5 more years of quality time on this earth with his family, and I think he would tell you he's grateful for the bonus time as well. He hasn't run marathons, but he gets around on his own steam, enjoys sitting in the sun eating ice cream, rolling around in the grass, and playing with his brothers and sisters. He's almost 12.5 years old now, which is pretty much a miracle given the fact he's a large breed dog diagnosed with osteosarcoma. I know this miracle wouldn't have happened if not for you folks in Cincinnati, Dr. Mauldin, and the great follow-up care with Dr. Brown and Dr. Campbell here in Louisville.
I'm so thankful we had the treatment at Pet Cure Oncology and I wish more people knew of the lifesaving treatment you're doing there. I will continue to do my part by sharing Rufus's story and hope you will do the same.
All the best,
Karen and Rufus Dickson"
We are so happy to see Rufus enjoying life, and that we were a part of his medical team. We wish Rufus many more months of fun under the sun and rolling around in the grass!
We Can Help
There is hope. If your pet has been diagnosed with cancer, please contact a PetCure Oncology location near you. Our pet cancer care centers offer comprehensive cancer care and specialize in the latest radiation therapies like SRS. Our team is ready to answer your questions and guide you through this difficult proces