Pet Hero: Mico The Therapy Dog
Before his cancer diagnosis, Mico, a 10-year-old male Australian Cattle Dog, loved to spend his days playing ball at the beach, fetching sticks in the river and doing therapy dog visits where children read books to him. With a veterinarian as a mom, Mico was well accustomed to life at the vet clinic as a guest, rather than a patient.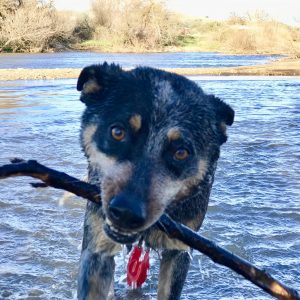 Signs and Symptoms
Dr. Marissa Greenberg, Mico's mom, noticed that he was slightly dragging both of his hind legs, wearing down the middle toenails on both and limping on his left front leg.
They were referred to the SAGE Centers for Veterinary Specialty and Emergency Care hospital in Campbell, CA.  Mico was diagnosed with a meningioma in his spinal cord at C-7. Due to the tumor location and type, cancerous tissue remained even after surgery. Without additional treatment, the cancerous tissue could continue to grow and spread to other areas.
Radiation Therapy
Mico's family decided to move forward with radiation treatment and he was treated at PetCure Oncology at SAGE with conventionally fractionated radiation therapy (CFRT). His family lives several hours from the SAGE location, so he was away during the weekdays of his treatment and home with his family on the weekends.
The PetCure Oncology team at SAGE was able to coordinate the logistics of Mico being away from home and staying with a friend during treatment.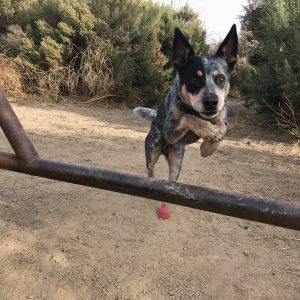 "Gemma Clarkson [radiation therapist at SAGE], made a very difficult situation just a bit easier – she'd send me daily updates, worked out Mico's drop off and pick up schedule, and even helped coordinate rehabilitation sessions for him with another department while he was there," said Dr. Greenberg.
Follow-Up
Since finishing radiation treatment, Mico is back to the beach to play ball, has played in the snow, swam in the lake and is back to fetching sticks in the river. He also is back to therapy dog visits! Mico's family noted that he's experienced no side effects from radiation.
"Though his movements are a little slower and less coordinated than before the tumor, he's back to doing all his favorite things, said Dr. Greenberg. "The fact that he can enjoy himself is the most important part!"
Mico's perseverance and resilience have been an inspiration to his family. He's continuing to work on physical therapy and rehabilitation daily, and his family noted how instrumental the rehab done at SAGE during treatment has been for his recovery.
"The biggest thing I've learned through this experience is how truly amazing and resilient dogs are," said Dr. Greenberg.
"Though the whole process is daunting to think about, it can definitely be worth it to get to see them back doing the things they love – and the PetCure team is dedicated to helping both owners and patients through the process."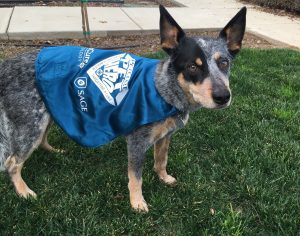 If Your Pet Is Diagnosed with Cancer, PetCure Oncology Can Help
Our team is ready to offer you guidance on your pet's cancer journey.
To speak with a member of our Pet Advocate team, please call 883-PET-HERO.