Pet Hero: Cosmo, the Brain Cancer-Fighting Dog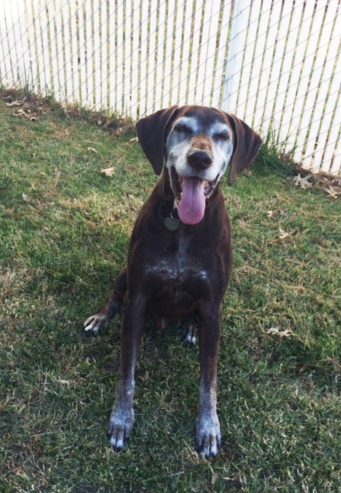 Cosmo is a high-energy German Shorthaired Pointer who loves to go on long runs with his parents, Lori and Kevin Young.
Signs and Symptoms
Even at 11 years old, Cosmo was a bundle of energy and a graceful runner. Lori knew something was wrong when Cosmo fell down while playing and started bumping into furniture.
Their primary care veterinarian Dr. Rita Johnson first diagnosed Cosmo with an inner ear infection because of his balance and coordination issues. After completing multiple rounds of antibiotics, his symptoms worsened. In just a few weeks, Cosmo's health had deteriorated, and he was barely able to lift up his head. The veterinarian suspected Cosmo had a brain tumor and referred him to a veterinary neurologist in Nashville, Tennessee.
The neurologist, Dr. Rossi House, performed a physical exam, and an MRI confirmed her diagnosis—a tumor was found near his brain stem.
"We were very distraught," Lori said. "At that moment, I didn't think there would be anything that could be done."
Cosmo's condition was looking grave. Dr. House provided a few treatment options, including a new technology that offered hope to the Youngs. She referred Cosmo to PetCure Oncology at Care Center in Cincinnati, Ohio, for stereotactic radiosurgery (SRS/SRT), a noninvasive form of radiation therapy.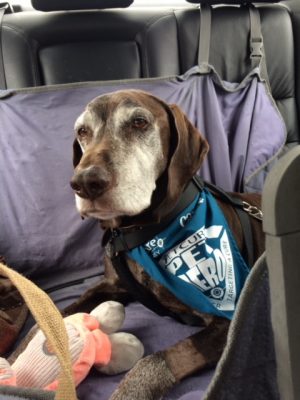 SRS/SRT Treatment
PetCure Oncology's Dr. Kelsey Pohlmann recommended SRS/SRT as the best option for Cosmo because it would precisely target the tumor and didn't involve multiple rounds of radiation or medication.
Lori and Kevin were emotionally and physically drained. "Seeing this otherwise healthy dog who loved nothing more than to run be so physically diminished was heartbreaking," Lori said.
Follow-Up
Four months later, Cosmo is back to taking long walks and running around chasing balls in the backyard. He is completely weaned off steroids and no longer displays symptoms of his brain tumor.
Lori said Cosmo looks and acts like he never had cancer. The Youngs were comforted by the level of compassionate care from the entire team and would recommend PetCure Oncology and SRS without hesitation.
 "We have a lot of things to be thankful for this holiday season and Cosmo's recovery is on the top of the list," Lori said. "We hope Cosmo's experience can help other pet parents in making decisions about cancer treatment for their pets."
If Your Pet Is Diagnosed with Cancer, PetCure Oncology Can Help
Our team is ready to offer you guidance on your pet's cancer journey. To speak with a member of our Pet Advocate team, please call 883-PET-HERO.