Pet Hero: Cooper the Labrador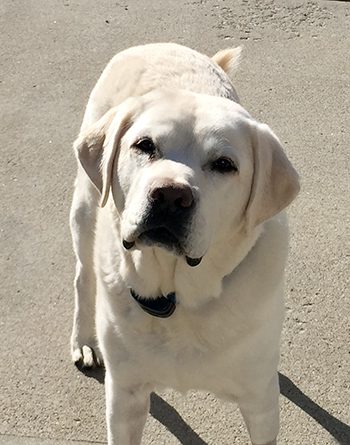 Pet Hero Cooper is an energetic 9½-year-old Labrador Retriever that is beating nasal cancer after receiving stereotactic radiosurgery (SRS). Owners Cheryl and Scot Harper of Indianapolis, Indiana, are thrilled to have their perky dog back to his normal self, but it was only a few months ago when they were shocked by Cooper's cancer diagnosis.
In 2015, Cooper started to have a consistently runny nose. At first, the Harpers figured this was caused by allergies. But, despite allergy medication, Cooper's runny nose did not get better. Since dogs are quick to lick their noses, the Harpers were not aware of how frequently his nose was running. About eight to nine months later, in late summer 2016, Cooper was taken to his primary care veterinarian after getting a bloody nose.
His veterinarian recommended they go to a veterinary specialist for diagnostic tests. An x-ray and CT scan revealed Cooper had a right-sided nasal tumor. Cooper's tumor was large, extending from the tip of his nose up into his sinus. A biopsy confirmed the tumor was nasal adenocarcinoma, or nose cancer.
"We were so shocked about the diagnosis," explained Cheryl. "He's young for his age, very chipper, runs around. Most people who see him think he's 4 or 5 years old. In hindsight, we realized that a lot of things we saw were caused by his tumor—dark spots on his bed and rubbing his nose on the carpet. His face looked normal, he acted normal, still played ball, went for walks, and did everything as usual. If we would have known, we could have caught this sooner."
The Harpers knew they had to act fast. They wanted Cooper to not only receive treatment right away, but to receive the right treatment.
Treatment Options for Cooper's Nasal Tumor
Three treatment options were presented. The first was conventional radiation therapy at the local specialty hospital. The plan consisted of 20 sessions over a five-day period.
The second option was to go to a nearby university's veterinary teaching hospital for conventional radiation therapy. Cooper would receive lower doses of radiation over a 20-day period.
The third option was to go to PetCure Oncology at Care Center in Cincinnati, Ohio, to receive a new kind of advanced radiation therapy called stereotactic radiosurgery (SRS). SRS requires only 1-3 treatment sessions, which means fewer anesthetic events. This is possible because SRS delivers high doses of radiation with sub-millimeter precision. This precision enables SRS to treat many tumors previously considered untreatable, and with little to no side effects.
When it came down to choosing treatment options, Cheryl said, "It was all about quality of life. We don't want to put him through something miserable and have him look at them thinking, 'What have they done to me?' That was the most important thing to us. Some of the side effects of conventional radiation you hear about are scary. We didn't want blisters in his mouth, or any risk that he would go blind or deaf. Because then, the quality of life is gone. When the doctor described the stereotactic radiosurgery option, we were really interested. We asked a lot of questions—about accuracy, quality of life, and symptoms. It seemed like the best choice."
Cooper Receives SRS at Care Center
The Harpers moved quickly. Only two weeks passed between their original visit with the specialist in late October 2016, completion of the necessary diagnostic tests, and completing treatment in only three sessions at PetCure Oncology at Care Center.
The Harpers stayed at a pet-friendly hotel and picked up Cooper from the hospital each day after his treatment. Cheryl recalls how wonderful he was while receiving treatment. "It was great. It was like a field trip. We took him back to the hotel each day. We brought his bed and stuff from home so it would be more familiar. We stayed right with him. We watched the World Series together. He loves popcorn, so we made some popcorn for him, and we were cheering together."
One Month Later
Cheryl says Cooper is doing well now. "My dog doesn't look any different. No burns, no shaved face. He's perky again and doing the normal things he does—following us around the house and running around outside. He is just an awesome dog! We love him to pieces. Our home wouldn't be the same without him."
Questions? Contact Us
If your pet has been diagnosed with cancer and you would like to know if SRS would be right for your pet, please do not hesitate to contact a PetCure location near you.