Pet Hero: Cannelle, The Loving Cat
Cannelle, a 10-year-old Abyssinian cat, was named after the brownish-black color of her coat but her personality is the most distinctive thing about her. Both of her parents work from home, so she's used to having people around and is very social and vocal. She goes to-and-from her cat towers and enjoys her time people watching and playing with a crinkle-ball. She lives in the heart of Chicago and loves to take in the sights and sounds of the city.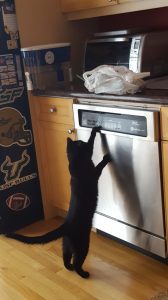 Signs & Symptoms
Sophie and Radif Masud first noticed that something was different with Cannelle when she was sneezing a lot and had some nasal discharge. After a round of antibiotics, the issues didn't resolve, and they were increasingly worried about her. They visited Premier Veterinary Group Animal Emergency and Specialty Centers in Chicago and were referred to PetCure Oncology by Dr. Katie Simpson, DVM, DACVIM for a consultation and an imaging review of her CT scan and lab results. Because of the symptoms, Cannelle wasn't eating her food and had begun to drop weight. Sophie and Radif knew that they needed to act fast.
SRS/SRT
Dr. Kelsey Pohlmann, radiation oncologist at PetCure Oncology completed an imaging review of Cannelle's CT scan and confirmed their suspicions, she had a nasal tumor. Cannelle was diagnosed with a nasal carcinoma. Dr. Pohlmann recommended Stereotactic Radiation Treatment (SRS/SRT).
"We were scheduled to go to Italy for a yoga retreat in Sicily," said Sophie. "When we got the diagnosis, we canceled our trip immediately and booked our stay in Milwaukee. We already had the time off, so we were able to travel for her treatment."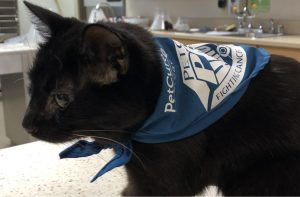 Cannelle was treated with three fractions of SRS/SRT for her nasal carcinoma at PetCure Oncology at Lakeshore Veterinary Specialists in Milwaukee.
"I could not imagine putting her through weeks of treatment," said Radif. "It was nice to know that we were able to have the treatment done in one week. It would have been more difficult for her otherwise."
Follow-Up
Cannelle's parents could tell right away that she was starting to feel better and the inflammation had reduced.
"After the treatment, she has been more loving. I don't know how she knew. I think she realized whatever we were doing was for her," said Sophie. "She was always a sweet cat, but she's been more loving."
If Your Pet Is Diagnosed with Cancer, PetCure Oncology Can Help
Our team is ready to offer you guidance on your pet's cancer journey.
To speak with a member of our Pet Advocate team, please call 883-PET-HERO.