Pet Hero:  Bella, The Strong & Super Sweet German Shepherd
Life as an 8-year-old German Shepherd on the sunny coast of Florida was exactly what you'd expect for Bella. Her days were full of fun in the sun with her dad, Dave Wright, and hanging out by the pool, swimming at the beach, and playing catch with her dog sister, Sasha.
"Bella really is a man's best friend," said Dave. They met when Bella was just an 8-week-old puppy.
"She still anxiously waits by the door for me to come home from work."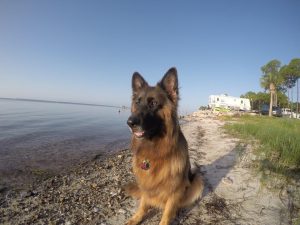 Signs & Symptoms
Originally, Dave had noticed a small bump on Bella's breast during a routine vet visit and was told by his veterinarian to keep an eye on it. It was later that he noticed one of Bella's breasts was enlarged and decided to take her to another vet for a second opinion.
They saw Dr. Jeff Christiansen  at Aloha Pet & Bird Hospital in Brevard County, Florida. Dr. Christiansen performed a fine needle aspiration and analyzed the cells. Their fears were confirmed –  the cells were cancerous. The happy and always cuddly Bella was diagnosed with a carcinoma on her mammary gland,  which Dr. Christiansen later removed
SRS/SRT
Dr. Christiansen recommended Bella visit PetCure Oncology at Southeast Veterinary Oncology and Internal Medicine in Orange Park, FL for a treatment consultation. Dave did some online research to learn more about PetCure Oncology and radiation treatment and recalled feeling very confident.
"Walking into the clinic, I remember feeling positive and confident about Bella's options. PetCure Oncology is reputable and cares about pets," he explained.
Dave and Bella traveled three hours each way to visit Dr. Tracy LaDue so that Bella could receive one fraction of stereotactic radiation (SRS/SRT).
"The staff was perfect and very compassionate," he said.
Follow-up
After treatment, Bella is back to spending time in the pool, hanging out with her fellow dog friends and living it up in the sun with her dad, Dave. She will continue to have rechecks with Dr. LaDue and the team at PetCure Oncology at Southeast Veterinary Oncology and Internal Medicine to monitor tumor shrinkage.
Dave was adamant about treating Bella and having pet insurance allowed him to prepare for the worst.
"Anybody owning a pet needs pet insurance as everybody gets sick, some worse than others," he said.
With Trupanion Pet Insurance he was able to keep out of pocket costs down with insurance covering 90 percent of the cost of treatment.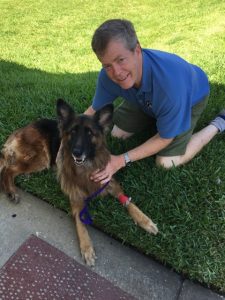 If Your Pet Is Diagnosed with Cancer, PetCure Oncology Can Help
Our team is ready to offer you guidance on your pet's cancer journey.
To speak with a member of our Pet Advocate team, please call 883-PET-HERO.
RELATED: Breast Cancer in Dogs