Pet Hero: Beau the Mellow Yellow Lab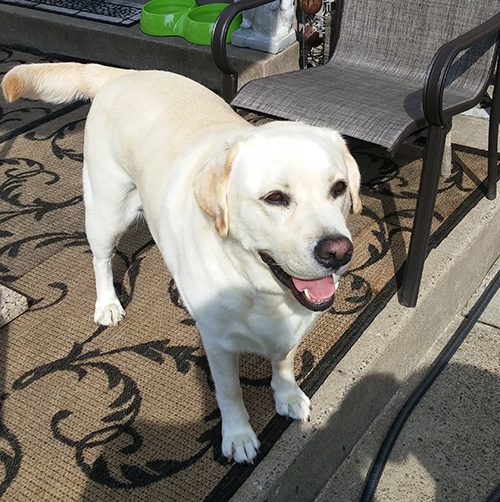 Do you know who the most laid-back dog is?
If you ask Cindy and John Jagielski of Pittsburgh, Pennsylvania, it's their 5-year-old yellow Labrador Retriever, Beau. Six years ago, the Jagielskis decided to get a purebred Labrador puppy. As an older couple, they asked the breeder for the laziest dog in the litter. That lazy pup was Beau.
From the day they adopted 8-week-old Beau to the 5-year-old he is now, Beau has remained the most laid-back dog they've ever had. And they've rescued dogs for 30 years!
"We got Hunter, a 2-year-old Lab as a companion to Beau. Hunter is ready to please and very playful; he sometimes pushes Beau out of the way. But Beau is so easygoing," said Cindy. "Beau lives life like he's just looking back at the world, taking it all in, and doesn't move unless he has to."
One day, Beau had a seizure.
On August 15, 2016, Beau had his first seizure. During the night, they heard scratching and a heavy thud. The seizure lasted about four minutes. Cindy called the veterinarian and was instructed to keep observing Beau to see whether it would happen again. The Jagielskis hoped it was a one-time occurrence.
Unfortunately, a few weeks later, and despite being on medication, Beau had a series of seizures. They decided to take him to Pittsburgh Veterinary Specialty and Emergency Center (PVSEC) to see a specialist. He was seen in the emergency room immediately and admitted to the hospital. The next morning, they received a call from the neurologist saying that Beau needed advanced imaging. PVSEC recommended an MRI—which revealed a brain tumor.
Cindy recalls hearing Beau's diagnosis: "It was a devastating thing to have to face. He was only five and a robust dog. Being on phenobarbital (medication given to help control seizures) made him act like a zombie. He wanted to be alone, hiding in the house. It was upsetting. The neurologist said it was inoperable and without treatment and he had three months to live. We felt paralyzed all through that time. Dogs are members of our family. We wanted this dog to have whatever chance we could give him." 
There was hope for Beau with radiation therapy.
The only treatment option for Beau was radiation therapy. However, conventional radiation would have required Beau to receive radiation five days a week for four weeks. The Jagielskis felt that this would be too taxing for him—and it would be difficult for them to transport him to treatments that frequently.
They were then told about a new form of radiation therapy now available for pets called stereotactic radiosurgery (SRS). It would only require 1-3 treatment sessions, and they could expect few to no side effects. SRS can target the tumor with sub-millimeter precision, maximizing damage to the cancerous tumor.
Not available locally at the time, they were referred to PetCure Oncology at Care Center in Cincinnati, Ohio, to receive SRS. After a consultation with the oncologist on Thursday, the family drove back to Cincinnati on Sunday to begin treatments. Beau received three sessions of SRS in mid-October over the course of one week.
"It was like one big happy family down there," said Cindy of Care Center. "We really thought that we would be either in our hotel room or nursing Beau after his treatments, not doing anything else. But the people there were absolutely wonderful. We trusted them. We felt comfortable enough that when we left Beau with them to receive treatment, we were able to go around Cincinnati to take in the sights."
Nothing phases this mellow dog. Beau is back to normal.
After Beau's first treatment, his parents could already see a difference. He was interested in things again and chewing on his rawhide. One month after treatment, Cindy states that Beau is back to normal. His medications have been reduced, which have helped him eat and drink normally, and he's now able to go back to daycare for playtime with Hunter. "Hunter missed his brother so much. He follows him everywhere. We wanted to give Beau a chance. I don't know where we would be had we not given him that chance. He's our old Beau again."
Beau will have his three-month post-treatment CT scan in January. According to Cindy and Jack, "No matter what the outcome is, we all tried our best and did our best. Long live Beau!"
Cindy, Jack, and Beau celebrated with us at the PetCure Oncology at Care Center's first anniversary event. We had a great time getting to know this wonderful family. We are touched by the loving words and generous spirit of the Jagielskis. After Beau received treatment, Cindy and Jack wanted to give back. They gave a donation to Care Center, which was used to help another pet owner receive emergency care for her dog.
---
We can help.
If you have a pet diagnosed with cancer, contact a PetCure Oncology location near you. We are ready to answer your questions and guide you through this difficult and emotional cancer journey. You can also reach us at Hope@PetCureOncology.com or 773.850.3400.