Fall Veterinary Conferences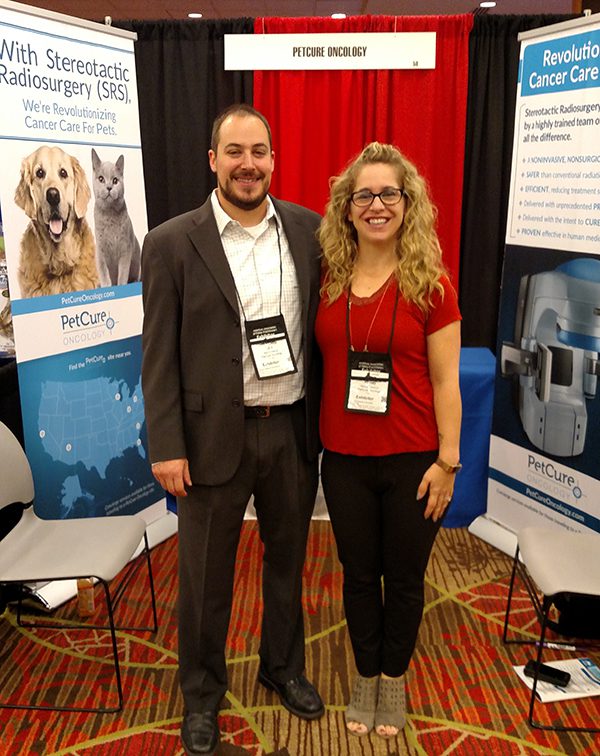 October was a busy month for the PetCure Oncology team!
In addition to revolutionizing cancer care for cats and dogs, PetCure Oncology is committed to working with veterinarians as they begin using stereotactic radiation (SRS/SRT) as a new cancer treatment option. PetCure Oncology participated in three national conferences last month, hosted by the American College of Veterinary Radiology (ACVR), the American Association of Feline Practitioners (AAFP) and the Veterinary Cancer Society (VCS). The events included a pair of educational presentations to the veterinary community, including a clinical report on the first 1,000 patients treated by PetCure and an overview of SRS/SRT for attending veterinarians and specialists.
ACVR in Phoenix, AZ
PetCure Oncology sponsored a Lunch and Learn session with speakers Dr. Neal Mauldin, chief medical officer of PetCure Oncology, Dr. Eric Boshoven of Arizona Veterinary Oncology and Susan Koehl of Varian Medical Systems. The event drew over 150 attendees and discussed innovations in veterinary radiation oncology, stereotactic radiation (SRS/SRT) and PetCure's strategic collaboration with Varian Medical Systems, the world's leading manufacturer of medical devices and software for treating and managing cancer. Susan Koehl also talked through the unique benefits of the HalcyonTM treatment system, Varian's latest and most innovative equipment used to deliver radiation therapy to cancer patients.
AAFP in Denver, CO
PetCure Oncology had an informational booth and provided information on SRS/SRT to veterinarians and feline specialists. Cancer in cats is often detected much later, and PetCure Oncology is dedicated to raising awareness among veterinarians to ensure cancer is detected and treated sooner.
VCS in Portland, OR
PetCure Oncology sponsored an informational breakfast session with speaker Dr. Neal Mauldin on innovations in veterinary radiation. The event drew over 200 attendees and presented preliminary data from the first 1,000 patients treated for cancer with a breakout of early clinical data examining apocrine gland anal sac adenocarcinomas (AGASACA), appendicular osteosarcoma, and prostatic carcinoma/transitional cell carcinoma. This initial presentation generated many questions from the group and interest in tumor-specific data, which PetCure Oncology will continue to collect and report on out as the research becomes available.
For more information on PetCure Oncology's commitment to clinical excellence and veterinary education, visit PetCureOncology.com.