Dog With Cancer Treated At PetCure Oncology In Clifton, New Jersey Goes Viral
This article first appeared on 6/24/21 on Newsweek.com, written by Kate Fowler
Mollybear the dog has gone viral on TikTok, with more than 14.3 million views for a heartwarming video showing her undergoing radiation treatment for a nose tumor.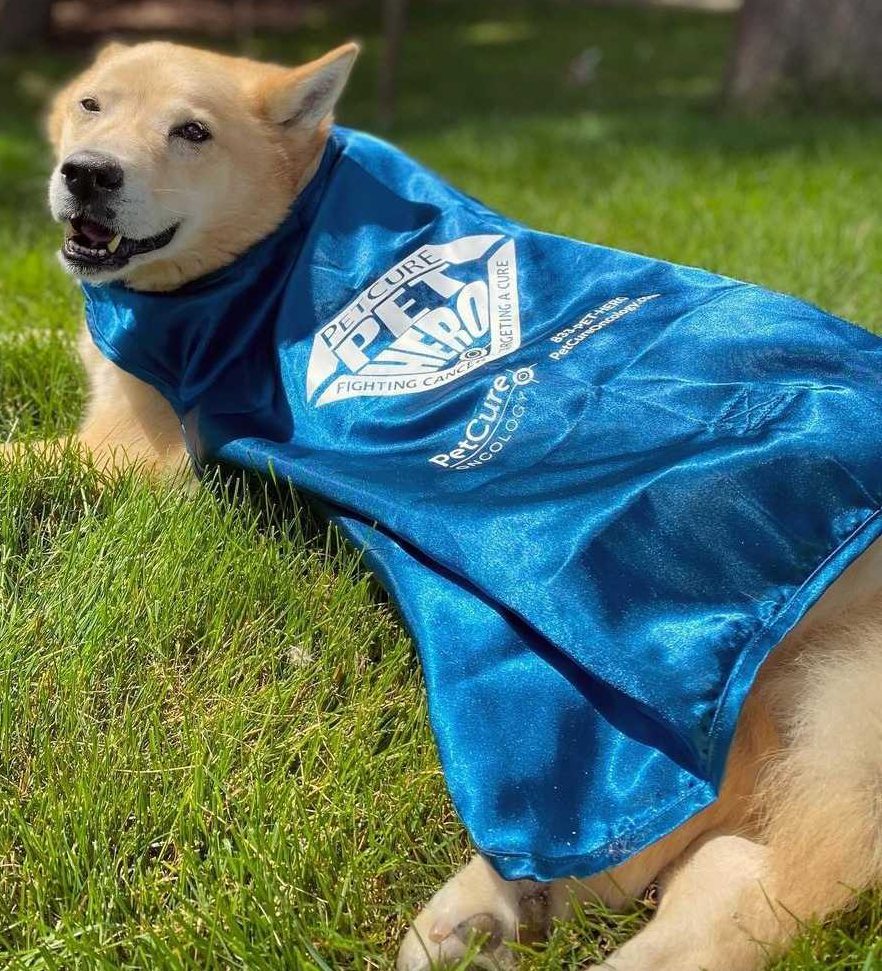 The 13-year-old animal has had a hard life. She was left homeless in 2014, when her previous owner died. Construction workers demolishing the owner's house set her up with a doghouse and offered to pay for her vaccinations if anyone would take her in. The only problem? Nobody could catch her.
Then a woman called Ryan Graney came along. Graney worked to build up trust with the dog, bringing food to her lot, before Mollybear became willing to visit her back garden.
"A neighbor posted on Nextdoor about needing to move a dog off a lot where construction would start soon so I went up to the lot and saw this dog living outside alone except for a small dog house. From there it took me a couple years to capture her and domesticate her," Graney told Newsweek.
Then, in May, Mollybear was diagnosed with a nasal sarcoma—a tumor in her nasal cavity—after suffering from nosebleeds. Three rounds of radiation were needed to shrink it.
Her owner Graney wrote on TikTok: "After the vet ruled out allergies as a cause for the nosebleeds, they did an X-ray and saw the mass in her naval cavity."
Graney has also documented the efforts to discover what was wrong with Mollybear on Instagram, as she tried different allergy medications and treatments. "We started on allergy pills but then the nosebleeds kept happening and they finally did an x-ray and saw the mass. So from there, we went to an internal medicine specialist for a CAT scan and a biopsy," she said.
In a video set to a cover version of "When Somebody Loved Me" from Toy Story 2, Graney documented her pet's treatment, showing her harsh nosebleeds at the start before taking viewers along with her to radiation. According to Graney, the vets filmed throughout and sent the footage to her.
At the end of the clip, which was posted on June 18 and has 2 million likes, Mollybear was shown leaving PetCure Oncology, wearing a superhero cape and with a parade of vets walking behind her. "I have never in my life experienced such a high level of veterinary care. They were the most empathetic, kind and caring group of people that I have ever come across in all the years of taking my dogs to vets," said Graney.
Follow this link to see the TikTok video.

In the following days, Graney posted again on TikTok to reassure followers about Mollybear's recovery. "Doing great after radiation," she wrote, showing the dog on a half-mile walk the next day. "She's a strong doggo," she added.
Mollybear isn't an only child either, as Graney has another dog named Doodle too, a 16-year-old with a wonky heart and collapsed trachea, "but she is the sweetest dog," she explained. "After we were done with radiation each day she would climb into Mollybear's bed with her for a few minutes. But what she really enjoyed was all the extra treats she's been getting throughout the process that her sister was being rewarded with."
Graney also shared a post-treatment video of Mollybear to Instagram, in which she is already showing signs of improvement. She explained: "The snorting that you hear is caused by the fluid that was built up behind the tumor and, as the tumor shrinks, it'll make its way down into her nasal passage for drainage.
"This is totally normal! This is what we want! We should see full results and maximum shrinkage of her tumor within the next two weeks."
"We go for a recheck in about a week and they will tell us if it was successful, but I already know that it has been because she is sleeping with her mouth closed for the first time in months! That means she can pass air in and out of her previously blocked nostril," she told Newsweek.
Not everyone who watched the viral video was a fan, however. Some TikTokers criticized Graney for deciding to have Mollybear treated with radiation, claiming that this is cruel. However, Graney responded, assuring the commenters that the dog was "never in pain" and completely healthy other than the tumor.
Update 6/25/21, 02:52 a.m. ET: This article was updated with comments from Ryan Graney.